Before any names go on your college list, it's important to know the types of schools there are! Junior year is a great time to start compiling your list, but it's always a good idea to be thinking about where you want to go. In this article, we'll be defining several types of colleges: four-year, two-year, public, private, liberal arts, community, and special focus.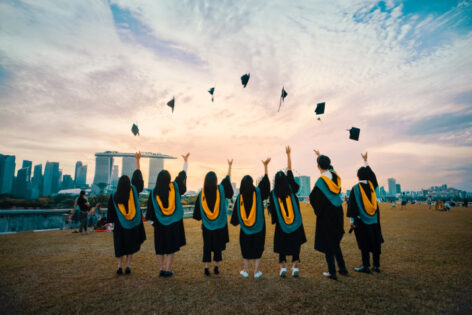 Two-year and Four-year:
Two-year college programs result in a certificate or an associate degree. Community colleges and vocational-technical colleges are two-year schools.
Four-year college programs result in a bachelor's degree. Universities and liberal arts colleges are four-year schools.
Public and Private
Public colleges are government-funded and are cheaper than private colleges. They often have more programs and resources, such as research facilities, and are better suited for independent learners. Public colleges tend to be larger in size and population, contributing to a louder social scene.
Private colleges rely on tuition and donations and are pricier than public colleges. They have smaller class sizes, and thus, are better for students looking for a more close-knit and interactive community.
Liberal Arts
Liberal arts colleges put the spotlight on liberal arts fields, such as literature, world languages, writing, and sociology. They tend to be smaller than regular colleges: most liberal arts schools only have a few thousand students, allowing for more individualized student-professor interactions and open discussion. A common complaint is that these four-year schools don't go deep enough into a specific path because of the breadth of the education that they provide. Examples of liberal arts colleges in the United States are Williams College, Amherst College, Wellesley College, and Bowdoin College.
Community
Community colleges are two-year schools that serve as an affordable option for students. One characteristic that makes these schools appealing is that they tend to be local, allowing students to stay close to home. Cons are that four-year universities have higher prestige than community colleges, and community colleges won't have as many programs and resources available. Community colleges can serve as a stepping stone for students aiming to complete a four-year degree, and most community college students report that this is their intention. However, senior researcher Davis Jenkins reports, "Too many students are failed by the current system of transfer between community colleges and universities." Examples of community colleges are San Jose City College and De Anza College.
Special Focus
Some colleges are geared towards a particular field or student population. These schools include arts colleges, single-sex colleges, and religiously affiliated colleges. Arts conservatories prepare students for artistic careers, such as dance, design, and theater, and offer associate and bachelor's degrees. The Julliard School is an example of a conservatory. Most schools are co-ed, but some private colleges are men-only and women-only. Women's colleges include Hollins University and Meredith College. Religiously affiliated colleges are private schools that are connected to religion, which often affects student life.
Choosing which school to attend is significant for any student, and it's important to know the characteristics of different types of colleges when making such a major decision. Students should actively explore new options and keep an overall open mind! There is so much out there, and there is always more than one thing that can suit you.
BigBang Artwork's next blog article will be on scholarships and tips for applying for them; stay tuned!